Ah, sports. We follow our teams through the good times and the heartbreak, sacrificing hundreds of hours a year in the process. Even when our teams aren't playing we can't resist watching others. Or playing ourselves! When the off-season comes round we're left with a huge void to fill. And gardening just doesn't cut it does it? Sport really is a way of life. So much so, that no matter what country or culture you are visiting some form of sport should be readily available to enjoy. And there is no better way to meet the locals than by joining in on an epic evening with their favorite local team. Like hockey? Don't worry our friends in Canada have you covered. Like basketball? You better book a flight to Los Angeles now and start looking for tickets if you ever plan on seeing a Lakers game. Enjoy football (soccer for our North American friends)? Fly to Europe or South America to see the best players in the world go at it. You can satisfy any sports cravings you have by visiting these must-visit sport destinations. Game on!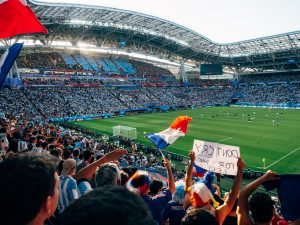 ---
1. Toronto – Canada
With millions of visitors each year, Niagara Falls is Canada's most popular natural attraction. What you might not know about the falls though, is that they're only a couple of hours drive from one of North America's greatest sporting cities. Toronto.
Seriously, this city has something for every sports fan all year round.
Baseball your bag? Catch a Blue Jays game. More of a hoops fan? The Toronto Raptors were the best team in the east in 2018! Or how about a taste of the nation's true sport, hockey? The Maple Leafs call Toronto home too.
If that wasn't enough, you can visit the hockey hall of fame in Toronto too. Now you just have to convince the rest of your family to take a detour from the falls…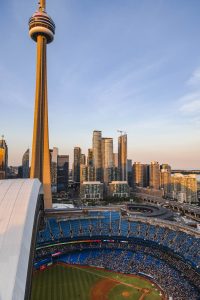 2. London – England
England's historic capital city has a lot to offer from a tourism standpoint. There's Buckingham Palace, the Houses of Parliament, the London Eye, the museums…. The list goes on (and on) and you could spend a whole month in London without seeing everything.
But why not give your feet a rest, escape the mayhem of the underground and indulge in a little bit of sporting action? If you happen to be in 'The Big Smoke' in July, you can enjoy some of the 'gentleman's sport' at Wimbledon. With a punnet of strawberries and cream in hand of course.
Not only is Wimbledon tennis' oldest tournament, it's widely regarded as the most prestigious. Or, if you really want to delve into the culture of England, attend a soccer game (just don't call it soccer over there). The home grounds of Arsenal, Chelsea and Tottenham Hotspur are all within the city limits.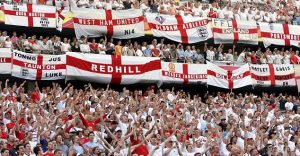 3. Tokyo – Japan
It's not all ultra-modern technology and ancient temples in the capital of Japan. There's also a very big sporting event to witness. Emphasis on the word big!
Yep, it's the national sport of sumo wrestling! What better way to experience a slice of Japan's unique culture than watching human giants wrestle each under in diapers? In all seriousness though, sumo bouts are incredibly popular and the atmosphere is often nothing short of electric.
I highly recommend it for any sports fans visiting Japan!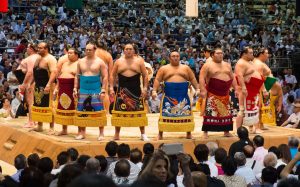 4. Seoul – South Korea
The 2018 Winter Olympics games were held at PyeongChang in South Korea and showcased what a great winter sports venue it is.
Unfortunately, the games are over, so you'll have to wait until Beijing 2022 to witness the best in the world shred it. But just because the games have moved on doesn't mean that you can't still hit the slopes in PyeongChang! A high-speed rail line connecting the resort with the sleek capital, Seoul, was completed in late 2017 too. So squeezing a weekend of winter sports into your South Korean itinerary has never been easier.
Beyond the skiing there are other incredible sports to watch. South Korea maintains a rabid fan base for baseball that rivals even the United States and Japan.
Catching a game in one of South Korea's many stadiums is incredibly entertaining and will show you a side of baseball you probably didn't think existed.
On top of baseball most Koreans enjoy Taekwondo, ping-pong, badminton and  a variety of e-sports. Just be careful when challenging one of the locals.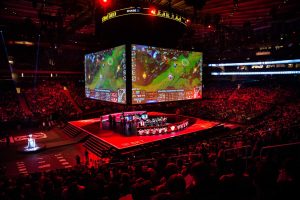 5. Barcelona – Spain
The capital of Spain's Catalonia region is famed for its enchanting blend of gothic and art nouveau architecture and world-renowned art scene, making the city a firm favourite for romantic getaways. But when you've weaved your way through the colourful backstreets and secured those insta-worthy snaps in front of the Sagrada Família, there's a must-see event at a different kind of cathedral. A cathedral of sport.
Barcelona is of course home to FC Barcelona, arguably the greatest soccer team on the planet. And trust me, even if soccer isn't your thing, watching a match at the near 100,000 capacity Nou Camp stadium should be on every sports fans bucket list. The roar of the passionate home fans can reach fever pitch, especially if fierce rivals Real Madrid are in town.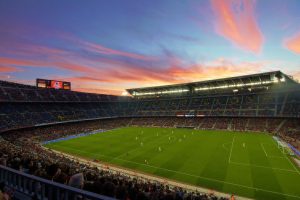 6. Monaco – Côte d'Azur
The elegant way of life, glamorous beach resorts and soaring temperatures make the Mediterranean coast of Southern France a huge summer hit for tourists. And you can bet your bottom dollar that every travel guide, website and local will recommend a day trip to the tiny independent state of Monaco while you're in the area. The principality is a playground for the rich and famous and offers a breathtaking insight into how the other half lives.
Mega-yachts line the harbour, copious amounts of money is frittered away at the prestigious casino and once a year, the most famous of all Formula 1 grand prix races comes to town.
The sheer noise the cars make as they rip through the streets of Monaco at close to 200 mph is absolutely exhilarating. Whether you're a petrol head or not, basking in the sun-drenched stands watching some of the best drivers in the world battle it out on the street circuit is a must for any lover of sport.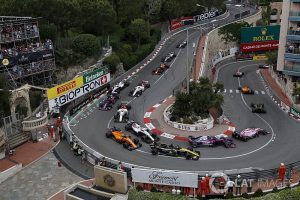 7. Las Vegas – U.S.A.
Everyone has got to experience 'The Sin City' at least once right? While it's famed for round the clock casinos and gaudy showmanship, Vegas has also built up a niche sporting reputation over the years. Showcasing such bouts as the infamous Tyson vs Hollyfield 11 'bite fight' and legendary Marvin Hagler vs Tommy Hearns slugfest, Vegas has earned its status as the boxing capital of the world.
Vegas isn't just a boxing mecca though. The entertainment capital of the world also hosts the increasingly popular UFC discipline, with five fight cards scheduled for 2018.
Watching a fight on pay per view is fun, but witnessing the drama live in one of the most electric cities on earth is better.
Trust me!
On top of this, Las Vegas as of the 2017-2018 season have their own NHL hockey team, the Vegas Golden Knights, who in their inaugural year almost took home the Stanley Cup Trophy after losing in the finals to the Washington Capitals.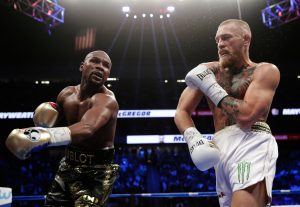 8. New York City – U.S.A.
I'm guessing that 'The Big Apple' is on your bucket list. And so it should be. The sprawling Central Park, impressive Statue of Liberty and neon-soaked Times Square are all incredible in their own rights and well worth seeing.
And that only begins to scratch the surface of what NYC has to offer. But if you can make time for it, New York has a legendary sports scene to immerse yourself in too.
Spread across the five boroughs, New York boasts two NBA teams in the Nets and the Knicks, two MLB teams in the Yankees and the Mets, two MLS soccer teams in the Red Bulls and New York City FC and a pro NFL team in the Jets.
Take your pick! While the Madison Square Gardens arena rarely showcases boxing bouts these days, the guided tour and museum are well worth checking out for avid fans too!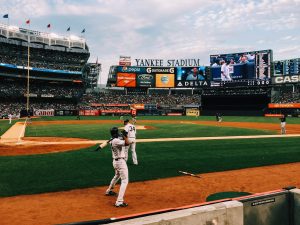 9. Rio De Janeiro – Brazil
There are plenty of reasons to add Rio to your must-visit list. The 38m Christ the Redeemer, buzzing Copacabana beach and raucous Carnaval festival to name just a few.
Rio hosted the 2016 Summer Olympics and 2014 FIFA World Cup firmly cementing its place as a great sporting city.
Soccer is the undeniable fabric of Brazil, like it is in many countries in South America.
The national team are five time world champions and the sport is played fervently in the favelas and on the beaches alike. But volleyball is also hugely popular in Rio.
Brazil dominates the sport at a professional level, and you won't have to walk along any of Rio's beaches for long before you find a game going on. The locals encourage participation, and if you're worried about your skill level, there are plenty of schools offering lessons too!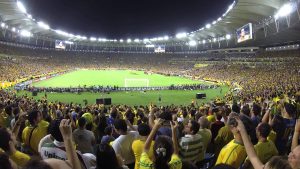 10. Melbourne – Australia
Stylish, dynamic Melbourne is without doubt Australia's sporting capital, and a must for travel and sports fans alike. Sport is held in such a high regard in Melbourne, that there are almost as many public holidays allotted for sporting occasions than there are for religious ones!
While the city is home to the Australian Formula 1 Grand Prix, Melbourne Cup Horse Race, cricket matches at the Melbourne Cricket Ground and Australian Open Grand Slam of tennis, it's a rather obscure sport that Melburnians (And the nation in general) truly go mad for. Aussie rules football.
Mixing elements of soccer with rugby, Aussie rules is a quirky sporting spectacle, but an enormously enjoyable one all the same. Don't miss out on this quintessentially Australian experience while in Melbourne!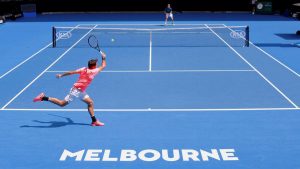 11. San Diego – U.S.A.
The self-proclaimed accolade of 'America's finest city' doesn't seem to be too far-fetched. Sun drenched beaches, a buzzing downtown and an engulfing laid back attitude make San Diego an amazing travel destination.
Plus, it's an absolute haven for action sports.
There's mountain biking through the forest trails, skateboarding at the dozen or so parks (the legendary Tony Hawks is from San Diego don'tcha know) and surfing on the golden beaches. How much can you cram into your trip?