If you're looking to escape the rigors of everyday life, a cruise is a great option. You can leave all the worries of the land lovers far behind you and drift over the horizon in comfort, luxury, and style.
But what if you want to bring the kids? Nothing makes a vacation less relaxing than bored youngsters. Which cruise lines offer the best amenities and activities to ensure that the whole family enjoys the ride?
Never fear. Most cruise lines take pains to provide fun for the whole family. Here are 5 that do the best job.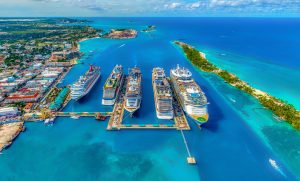 1. Disney Cruise Lines
Number one with a bullet, it's hardly surprising to see the Disney name taking the cake where kid-friendly cruises are concerned. You can expect all the trappings that make Disney theme parks so unforgettable:
popular characters, themed venues, and phenomenal service. But what might surprise you is just how adult-friendly Disney cruises can be too.
Ships feature plenty of adults-only bars, pools, and restaurants.
In fact, it's fair to say you'll have a good time even if you're neither young nor young at heart. There are live performances during and after dinner to entertain junior, but also wine tastings and shore excursions that are totally kid-free.
And all for comparatively good value!
You could easily entertain yourself for a week without partaking of any Disney kitsch if that's not your style — although you will likely notice the ubiquitous presence of Mickey Mouse, whose likeness tends to be woven into the decor. Grumpier adults may find the 'magic' annoying at times, but it's clear Disney has worked hard not to beat you over the head with it.
Destinations on offer range from the fjords of Norway to Hawaii to Alaska to Northern Europe to the good old Caribbean. To learn more or book your trip, click here.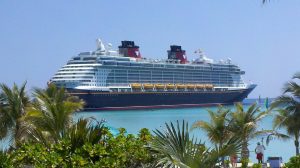 2. Royal Caribbean
As one of the world's largest cruise lines, Royal Caribbean has something for everyone. Its fleet ranges from the comparatively tiny (Empress of the Seas, which welcomes fewer than 2,500 guests) to the gargantuan (Symphony of the Seas, the world's largest cruise ship, which can accommodate 6,600).

Royal Caribbean offers exceptional activities and facilities for families with children — from toddlers to teens. Older kids (12 to 17) will get to hang out and make friends in the Teen Disco, while their younger siblings can have fun learning about science in the Adventure Youth Program.

But Royal Caribbean is perhaps most famous for its pools and water slides, which are sure to thrill every member of the family.

Don't let the name mislead you — this cruise line serves destinations all around the world.

To learn more, or to plan your trip,

click here.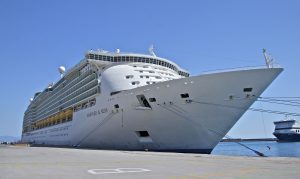 3. Carnival Cruise Lines
Carnival is aptly named, being known for its lively atmosphere, diverse excursions, and younger American clientele.

This line was basically designed for families with kids; while it's not especially high-end, it does offer value for money — plus

plenty for the kids to see and do.

Adventurous kids (who aren't afraid of heights) will love the SkyRide, a sort of bicycle on a track suspended high above the deck. Camp Ocean teaches kids aged 2-11 about the wonders of the blue planet, while Club O2 gives teens a place to mingle, play video games, and blast some tunes.

Hasboro the Game Show is just plain fun for everyone; you get to play giant versions of popular board games in front of an audience.

Just note that some activities may cost extra, and not all amenities are available on all ships. (That, by the way, is good advice whichever cruise you're planning to take. Always read the fine print)!

To learn more or plan your cruise, click here.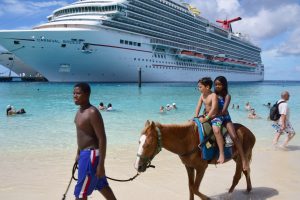 4. MSC Cruise Lines
If you haven't heard of MSC (or think it sounds like some sort of pesticide) you could be forgiven; it's a smallish Swiss-run line with a fleet of 15 ships. But it has a very attractive pitch if you're looking for a family vacation that won't break the bank.
Kids under the age of 11 sail for free as long as they're accompanied by two adults paying fare. And if you book your cruise for the off-season or mid-season, kids 17 and under sail for free as well!
(Note: This policy used to be broader, but word seems to have gotten out. It now only applies to select cruises, so make sure you inquire before you book)!
MSC doesn't really have any kid-themed activities to knock your socks off, and some things cost a few extra bucks. But you can save pretty big if you plan ahead while still having an unforgettable time with your family.
To learn more or to book, click here.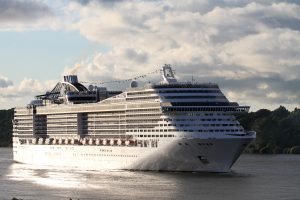 5. Norwegian Cruise Line
Finally, if you're looking for a truly laid back experience, Norwegian may just be for you. Unlike some other lines, Norwegian emphasizes the freedom of passengers to set their own schedules.
There's also no dress code, so you can keep it as casual as you want — probably a good thing for parents with young kids who are conscious of accidents and spills.
Attractions for younger passengers include dodgeball, a circus academy where they can learn to juggle, and Entourage, where teens can play video games, watch movies and dance.
Perhaps the most helpful thing for kids — who are prone to getting hungry at all hours — is Norwegian's Freestyle dining arrangement. This means you can pretty much eat whenever and wherever you please, although specialty restaurants do cost extra.
Travel Weekly named Norwegian the best line overall for family cruises.
To learn more or to book, click here.