Having good credit is important, especially if you want to get a mortgage, finance a big purchase like a car, or take out a loan. Did you know that having more than one credit card is actually good for your credit score? Contrary to what you'd expect, owner more credit products is better for your credit—as long as you keep up to date on the payments.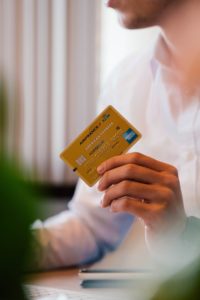 How To Rebuild Credit Using A Credit Card
A good credit score is anything above 640, according to FICO. If you're trying to boost your credit score, using one or more credit cards properly is an easy and manageable way to do it. Once you've been approved for your card, start making small purchases, and pay them off right away. You may want to set up automatic payments for something like your phone, or other utility bills, so you don't even have to think about it. As long as you're paying off the card each month, your credit score is going to grow. Online banking makes this process even easier.
Here are some low-fee credit cards you can get to improve your credit score today:
Discover it Cash Back
Annual Fee: $0
Interest APR: 11.99% – 22.99% Variable
This card allows you to earn 5% cash back on everyday purchases, and for your first year, Discover will automatically match all the cash back you've earned. With its low variable interest rate and no annual fee, this is a good credit card to have if you need a secondary card.
It isn't accepted at as many places as Visa or Mastercard, but it's worth using for the rewards alone. If you have mediocre credit, try applying for this card first.
Even if they don't approve you for this one, Discover offers an assortment of cards that you may want to have as a wallet sidekick.
Credit One Bank Visa Credit Card
Annual Fee: $0-$99
Interest APR: 17.99%-23.99% Variable
This is a flexible credit card for those who are eager to rebuild their credit in a hurry. Credit One reports to the three major credit bureaus monthly, so your score will improve month after month as long as you make payments on time.
It has a low threshold for approval, because it's a secured card—you have to make a $200 refundable deposit. The good news is, this card has a decent rewards program, so you can earn cash back with every purchase you make.
Capitol One Secured Mastercard
Annual Fee: $0
Interest APR: 26.99% Variable
Secured cards require an initial cash deposit. If you have a below-average credit score, then a secured card is probably your best bet, since it will be harder to get an unsecured card.
This card has some excellent benefits, such as its low deposit: $49, $99 or $200, refundable. You can also be approved for a higher credit line after making your first five monthly payments on time.
There's no fee charged on purchases made outside the U.S., and flexibility on payment due dates, as well. However, this card doesn't offer any sort of rewards program.
Indigo Mastercard
Annual Fee: $0-$99
Interest APR: 24.99%
This card is an excellent option for those with low credit scores. Indigo will pre-approve you for a card online and issue you a card right away.
Depending on your credit score, you may have to pay an annual fee. The main drawback to this card is its high interest rate, but as long as you make your payments on time, that's a non-issue. Indigo also updates the major credit bureaus, so you can improve your credit score quickly by making small purchases every month and paying them off.
Total Visa Credit Card
Annual Fee: $75 for the first year
Interest APR: 34.99%
The Total Visa credit card is a great card for those with low credit scores, especially if you've been refused a card from other vendors. They'll approve and issue you a card quickly as long as you have a checking account. The card is accepted anywhere, just like a regular Visa card.
The only drawback with this one is its low credit limit—only $300. However, that keeps the monthly payments manageable, making it an ideal card for rebuilding your credit.
Be warned, though; that high interest rate is a killer if you don't make your payments on time.
To find a good credit card and start building your credit score up to where it should be, apply for these cards online today!